Help exists for those struggling to pay veterinary bills …
…but please remember prevention, that means doing what it take to keep your pets and yourself healthy before a vet or doctor is needed. Taking Diatomaceous Earth and a daily supplement protects people and pets form many opportunistic diseases, heavy metals, radiation, worm, arthritis, Candida, Fibromyalgia and a host of other environmental conditions.
Re-read the list of reasons to take a daily dose of DE …Canadian DE!
March 4, 2014
By: Phyllis DeGioia
For The VIN News Service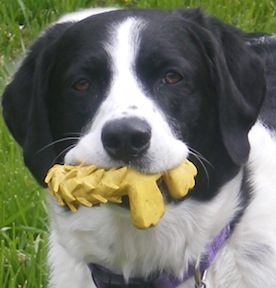 Photo by Kim Welch
Americas, a springer spaniel-Labrador retriever mix, required expensive surgery in 2007 to remove a nerve-sheath tumor. Her owner, Kim Welch, was able to obtain financial aid from Canine Cancer Awareness, one of numerous charities that offer help with veterinary bills.
Denying medical care to a sick or injured animal can ruin days and induce lasting guilt. Even so, the scenario is familiar among veterinarians with clients who can't afford medical treatments for their pets. Financially strapped owners often turn to euthanasia to alleviate an animal's suffering — sometimes prematurely.
Numerous charitable organizations hope to prevent this from happening, usually by paying for a portion of medical treatment needed by pets belonging to people with limited incomes. Such organizations proliferated during the recent economic slump, to the point that dozens exist today in the United States alone.
Some groups focus on medical conditions such as cancer or heart disease. Others serve pet owners in particular geographic regions or segments of the population such as seniors or people with disabilities. Some offer assistance to specific breeds.
Typically, the groups raise funds by soliciting donations. The reliance on donations can make for a tenuous existence. Some programs go under when they cannot raise enough money. That's what happened with the Healthy Pets Fund, created in 2005 by the American Animal Hospital Association. After having distributed more than $1 million to assist more than 4,000 pets in need of urgent veterinary medical care, the charity closed in 2012 due to dwindling funds.
Other charities that run short of money take a break from dispensing aid until they can rebuild their coffers. Canine Cancer Awareness, for example, stopped in mid-September accepting applications for financial assistance. This is the second time the organization has had to pause from offering help since its inception as a nonprofit organization in 2004.
The most money Canine Cancer Awareness has amassed at any one time is $15,000, according to board president Pam Storto, and the money goes quickly.
"We get multiple requests in a week, sometimes more," Storto said. The organization is staffed by a group of volunteers from the United States and Canada. Speaking of the board, Storto said, "We took a pact saying we would all do this for the rest of our lives for free."
In addition to soliciting for donations, the group benefits from merchandise such as calendars, mugs and T-shirts sold online. Canine Cancer Awareness provides up to $1,000 per dog for treatment of confirmed cases of cancer, Storto said. Applicants must provide details of their financial condition. Each application is voted on by the five-member board, a process that takes about two days. The treating veterinarian bills Canine Cancer Awareness, and payment is sent directly to the veterinarian.
"That way we know the veterinarians are definitely getting the money," Storto said. "We don't pay for euthanasia," she added. "Only treatment."
Among the animals to benefit was a dog named Americas. The springer spaniel-Labrador retriever mix belonged to Kim Welch of Whidbey Island, Wash. In 2007, Americas was diagnosed with a nerve-sheath tumor just millimeters from her heart. Removing the tumor from its difficult location would require amputating the dog's shoulder and foreleg. The risky surgery cost $7,000 — money that Welch, a hairdresser and single mother, did not have.



But Welch refused to surrender. "I would have done anything to help save her," she said.
Welch sold some things on eBay, but that garnered only a few hundred dollars. "I thought I'd have to get a job at night scrubbing toilets in a hotel," she recalled.
She didn't have to. Canine Cancer Awareness contributed $1,000 toward Americas' expenses. Welch also managed to obtain financing through a medical credit card company. And then there was a mysterious donor.
The day Welch was due to pick up Americas after surgery, her landlord walked into the salon with a thick envelope. "Some guy came in and said to give this to you," the landlord said. Inside was a stack of bills adding up to some $3,000.
To this day, Welch doesn't know the identity of her benefactor.
Americas survived for three years before succumbing to a relapse that involved another surgery costing $3,000. Welch said she doesn't regret a dime spent treating her dog.
Today, Welch supports Canine Cancer Awareness to the best of her ability, such as by buying items from the online store. She suggested that the organization raise money by creating a cookbook, an idea it is in the midst of executing. Welch also pays forward her gratitude by volunteering time rescuing dogs from high-kill shelters, helping to facilitate their adoption.
In Ontario, Canada, the Farley Foundation uses a different approach. There, it's the veterinarian, not the pet owner, who applies for financial aid for a patient. The foundation is run by the Ontario Veterinary Medical Association (OVMA). Any clinic with at least one veterinarian belonging to the OVMA may receive up to $1,500 a year for non-elective treatments.
Farley gave a total of $332,000 during its 2013 fiscal year, helping 845 pets with an average subsidy of $390, according to foundation spokeswoman Nadia Vercillo. Since 2002, the foundation has provided $1.9 million to assist nearly 5,000 cases.
Because the OVMA covers administrative expenses, the foundation is able to distribute virtually all donations to medical care, Vercillo said.
Named after a heroic Old English sheepdog character in the comic strip "For Better or For Worse," who drowned saving a child, the Farley Foundation relies on individual donations, corporate sponsors and two large fundraising events.
Dr. Greg McWatt of Phelpson has tapped the foundation to assist a few clients. "It works better for non-emergent treatment but it can be retroactive if you're carrying a cost for a client," McWatt said. "They are easy to work with. It's a pretty committed group. The OVMA is meant to support us, so it works well because it's part of our association."
Because the foundation has exacting criteria to qualify for aid, McWatt thought at one time that Farley wasn't very accessible to clients. He believes that it's wise of Farley to set tight eligibility requirements, but he's met many pet owners needing financial help who don't qualify. More recently, however, McWatt has had clients who do qualify.
One client who relies on federal assistance was able to have the family dog's diseased eye removed. In another case, McWatt was contacted by a social welfare organization on behalf of a homeless dog owner. With Farley's help, McWatt was able to treat the dog.
Besides tapping Farley for eligible clients, McWatt helps to raise money for the foundation. Last year, he joined the annual Ride for Farley, raising $1,500 by cycling 100 km, or 62 miles. (Riders mainly consist of veterinarians, hospital staff and people who work in the veterinary industry.) McWatt also plays in Farley golf fundraisers.
Other ways strapped pet owners may pay for veterinary care are, of course, by taking out a loan or using a credit card. Several credit-card companies allow qualified consumers to pay medical bills over time interest-free, provided the balance is paid off within a specified time. (Consumers should take care to understand the terms of any credit they accept. CareCredit, a major medical financing credit card company, was investigated recently by the New York State Office of the Attorney General for alleged predatory lending practices.)
Several aid organizations require that pet owners apply for and be turned down by CareCredit before their application for assistance is considered.
Another option for pet owners is to raise funds themselves by, for example, using crowdfunding websites.
For those considering applying for aid from veterinary charities, at least two websites maintain listings of benevolent organizations: Veterinary Partner, which is operated by the Veterinary Information Network, parent of the VIN News Service; and Speaking For Spot, a site by veterinarian and author Dr. Nancy Kay.